Here is what Gamecube owners can look forward to for this year: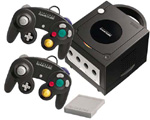 Mario Kart: Double Dash!!
1080° Avalanche
Mario Party 5
Final Fantasy: Crystal Chronicles
Kirby: Air Ride
Mario Golf: Toadstool Tour
The Legend of Zelda: Four Swords
F-Zero: GX
Pikmin 2
Starwars: Rebel Strike: Rogue Squadron III
Viewtiful Joe
Soul Calibur II
Sonic Heros
Metal Gear Solid: The Twin Snakes
Prince of Persia: The Sands of Time
007: Everything or Nothing
Tony Hawks: Underground
Yu-Gi-Oh: The Falsebound Kingdom
Harry Potter: Quidditch World Cup
The Sims: Bustin Out
Madden 2004
FIFA Soccer 2004
NBA Live 2004
Tiger Woods PGA Tour 2004
NHL 2004
NCAA Football 2004
SSX 3
Wrestle Mania XIX
Teenage Mutant Ninja Turtles
Medal of Honor: Rising Sun
The Simpsons: Hit & Run
Harry Potter And The Sorcerers Stone
Dragonball Z: Budokai
Froggers Adventures: The Rescue
P.N. 03
XIII
True Crime: Streets of L.A.
Killer 7
NBA Street Vol. 2
Go! Go! Hypergrind!
NFL Blitz Pro
Tom Clancys Splinter Cell
Buffy the Vampire Slayer: Chaos Bleeds
NHL Hitz Pro
The Hulk
RoadKill
Bionicle
Beyblade Super Tournament Battle
Phantasy Star Online Episode III: C.A.R.D. Battle
SpongeBob SquarePants: Battle for Bikini Bottom
Scooby-Doo! Mystery Mayhem
Auto Modellista
Gotcha Force
Disneys Extreme Skate Adventure
Billy Hatcher and the Giant Egg
Crash Nitro Kart
Wallace & Gromit in Project Zoo
SpyHunter 2
The Hobbit
Sphinx and the Cured Mummy
Pitfall Harry
Freestyle Metal X
Tak and the Power of Juju
Freaky Flyers
Hot Wheels: World Race
Ultamate Muscle: Legends vs. New Generation
Mega Man Network Transmission
Big Mutha Truckers
Gladius
Metal Arms: Glitch in the System
2003 RicanSaiyan. All works here are copyrighted by their authors.